The Divot Board
EFFECTIVE AND IMMEDIATE GOLF SWING FEEDBACK TOOL
The feedback that the Divot Board golf swing trainer will provide goes beyond being a golf thing and becomes a learning thing. People learn in all different ways, but for learning to be effective feedback should be given immediately.
THE DIVOT BOARD
Change Your Game
There has never been a feedback tool that instantly shows your contact point with the ball and the ground. The Divot Board helps you understand what is happening at impact. So, you can make changes to improve your game.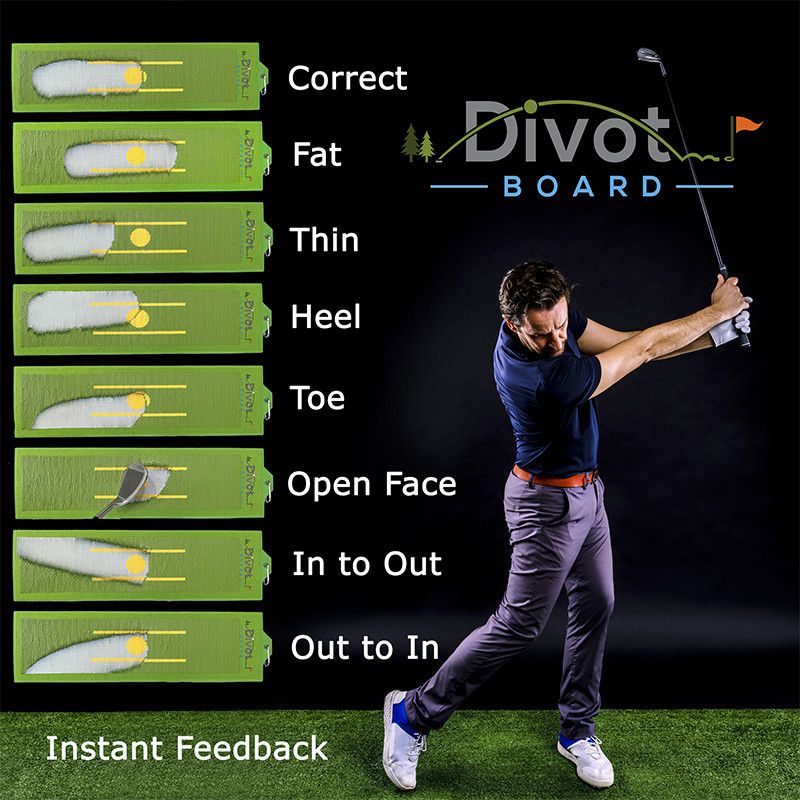 How The Divot Board Works:
INSTANT FEEDBACK ANYWHERE!
*CAN BE USED WITH OR WITHOUT GOLF BALL*
The Divot Board golf trainer works for both right and left-handed golfers and has 4 easy steps:
Position • Swing • Read • Repeat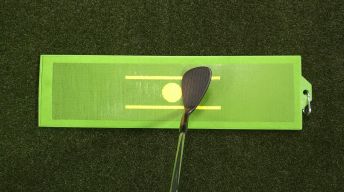 1. Position
Position the Divot Board to align the ball image with your set-up.
2. Swing
Keep your focus on the image of the golf ball. Take your swing.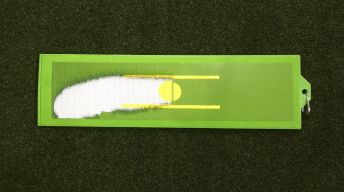 3. Read Your Divot
After your swing, read your divot. Assess changes for your next swing.
4. Adjust
Use your club or hand to reset the Divot Board. REPEAT!
★★★★★

One of the simplest and great golf training aids ever created.

Adam Young

Online Golf Coach - adamyounggolf.com
★★★★★

It doesn't matter if you slice if you hit it straight if you draw… Whatever your problem is, it's going to improve it when you use this board.

Clay Ballard

topspeedgolf.com
★★★★★

Compact and portable, I throw it on my living room floor and take full swings barefoot in the house. The thick rubber base eliminates any worry of damage to my hardwood floors or hard feedback on the joints.

Recent Buyer
★★★★★

This is a fantastic diagnostic tool that addresses one of the biggest problems of practicing on artificial turf. We finally have something that gives golfers crystal clear feedback on one of the most important fundamentals in the golf swing – ground contact.

Jon Sherman

Practical-Golf.com